Project Spotlight: Hillsmere Elementary School
It makes me feel old to think about how many K-12 projects I have worked on in my career here at BKM.  The last time I checked it totaled over 45 schools (and counting).
I have worked on all sizes and types of schools from 15,000-square-foot specialty schools to over 250,000-square-foot high schools.  I have seen small equipment replacement jobs, full systemic renovations, and new school buildings.  I can honestly say that working in the K-12 market is my passion.  Each project brings a unique set of goals and challenges but the main theme is always the same – provide a safe and healthy environment to enhance the learning experience for our future generation.
Of all the projects that I have worked on over the years, it is safe to say that Hillsmere Elementary School is my favorite.  The main reason for the that is Jessica Eshleman and Lauren Snyder.  Jessica (Jess) is a 3rd-grade teacher at Hillsmere and is my younger sister.  Lauren is a 4th-grade teacher at Hillsmere and is my cousin with whom I grew up.  When we received the call to work on this project, I was extremely excited – I am very close with my family so the thought of having our professional worlds collide was really cool!  One of the project's first steps was to perform a feasibility study to determine if a renovation/addition or a new building was the best solution for the Hillsmere.  Of course, that required a site visit to the school to evaluate the existing building and MEP systems.  Our initial visit to the school was over the summer – a few weeks before the teachers returned.  When I arrived, I proudly told the office staff that I was related to two of their best teachers.  After telling me how much they loved Jess and Lauren, they showed me where their classrooms were located.  Once all the survey work was completed, I decided to circle back to their rooms for a little fun.  I hid three business cards in each of their classrooms so that they could have a scavenger hunt upon their return.  As I am writing this post, there are still two cards unaccounted for.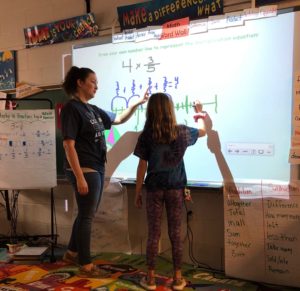 Over the next few months, the design team and AACPS staff evaluated the building options. I got to share updates with my sister and cousin as well as fielded about 1,000 questions from my mom and aunt (of course they were all sworn to secrecy until the principal officially announced the plans at the beginning of the school year).  After the team decided that Hillsmere was to receive a new building, the next step was a kick-off meeting at the school.  The meeting time aligned perfectly with Jess's planning period so I was able to stop in and visit with her for a few minutes before the meeting starting.  She was over eight months pregnant at the time so it was nice to wish her well before the big day!  Lauren didn't know I was coming to visit the school but I decided to barge into her room anyway and fling one of BKM's flying screaming monkeys at her while she was teaching.  The kids loved it but I am not sure how focused they were for the rest of class (sorry Lauren). Needless to say, most of my meetings aren't that exciting.
Construction just started on the project.  As if the family ties weren't crazy enough, Erik Eshleman (Jess's husband) works in our Contract Administration Department.  His role is to manage projects during the construction phase and make periodic visits to the site for progress meetings and site inspections.  He will likely be assigned to this project and will be able to give Jess real-time updates on how her new school is progressing!
Jess, Lauren, and all the other teachers out there are what makes working in this market sector so rewarding.  These educators care so much about their students and often teach in poor classroom environments without complaining or affecting their attitude.  There is no greater joy in our profession than telling a teacher who persevered through years in an old non-air-conditioned school, that hope is on the horizon!  I and the whole BKM team look forward to continuing on this great project and we hope that this new school will be a wonderful home for the kids of Hillsmere for many years to come!